August 25th and 26th, 2009

My very good friend Capt. Becky had arranged for a few of us to take a bit of a refresher course in sailing with her sailing instructor from last summer, Frank Baron of Adventure Sailing Plus Ltd, in Penetanguishene, Ontario. She had become such a keen sailor since taking that 5 day intermediate live-aboard cruiser course, that I hesitantly agreed to join her. Another lady sailor, Marcia, was also willing to take the plunge with us. So we went.


Becky and I arrived the night before and stayed at a lovely Inn across the bay from where s/v Compass Rose X sat in her slip at Beacon Bay Marina in Penetanguishene, Ontario.
We had a nice dinner out and relaxed with a bottle of wine in our room for the evening. Marcia arrived early Tuesday, Aug 25th, and met us at the dock.
After we met Frank and s/v Compass Rose X (Jeanneau 44), we did the necessary paper work and stuff, and got underway around 10:30 with Becky at the helm.
Becky did a fine job of taking us off the dock. The question remains: who will bring Rose back in at the end of the day?

All three of us took turns on the helm throughout the day, first, at 1/2 hour intervals, then I stretched them out to 45 minutes as I was really loving being on the helm and not wanting give Becky her turn. Most of you know, I hate (well, used to hate) being on the helm!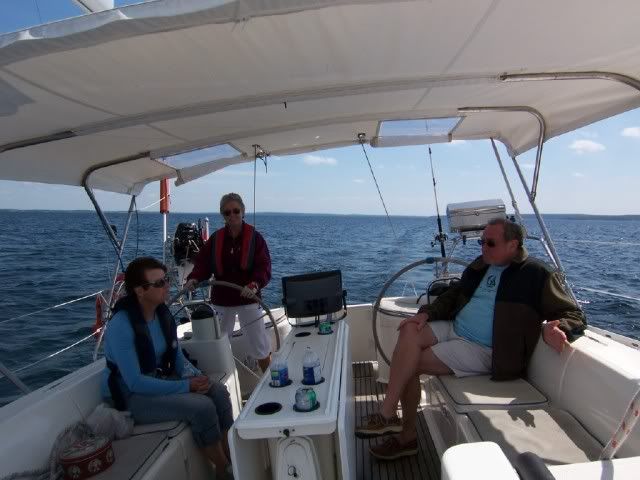 Here I am on the helm, Frank must be either telling a good story or giving Marcia some sailing pointers! Two wheels on the helm is pretty awesome, making steering from the low side much easier than from a center wheel. Viewing the tell tales (tails) on the Genoa is much easier from the low side when the boat is heeled. Two wheels also makes docking easier...




I think Becky was glad I finally let her have the wheel.

Our first day was warm and lovely, as you can see with Becky's tank top.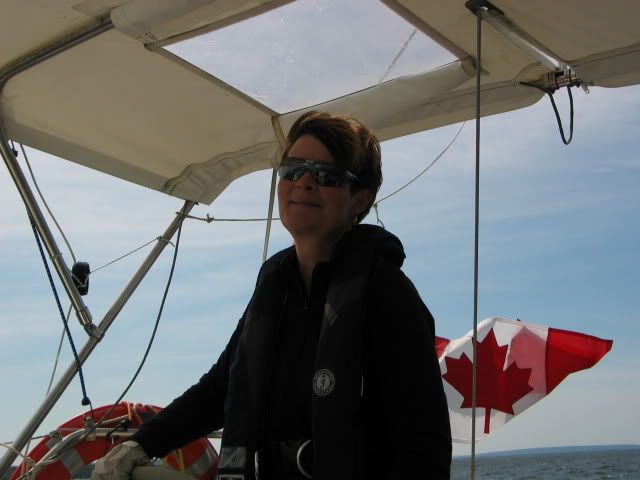 Marcia is looking quite comfortable at the helm as well, of course, Becky always gave it up right on time!!



Marcia is just enjoying the ride until we have to tack.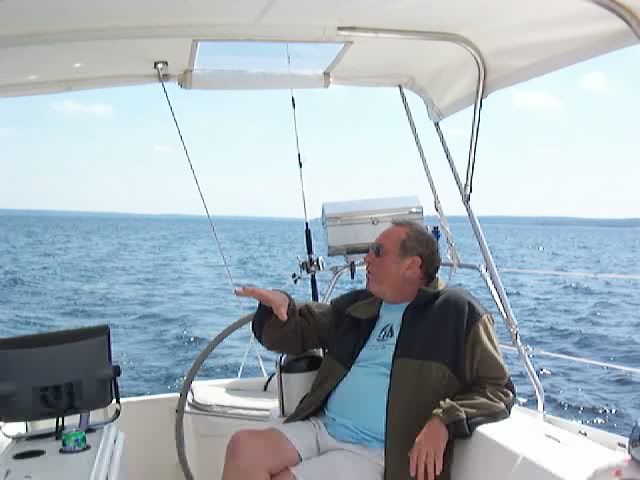 Frank Baron: instructor / owner~ Adventure Sailing Plus Ltd. ( www.adventuresailing.ca)



OK, It's my turn to steer the boat~ And No, I'm not letting anyone else have a turn until we get back to dock!!! But I don't want to dock it, so someone get over here and take the helm!

We sailed all day and had a wonderful time.
For Marcia and I, This "class" was not so much a 'class', but more a coaching cruise and evaluation of skills and capability, to see where we stand if we were to take one of Frank's CYA sailing courses.
I liked the informality of the whole thing, we just went out and sailed and came away with a better knowledge of sailing. We all told a lot of stories, I probably told more than any, of my trips to the Bahamas, and Frank of his trips to the Caribbean. It was a good first day!


And oh, guess who had to dock s/v Compass Rose at the end of the first day? YAY ME!! Maybe I should have kept my big mouth shut!! Since I have only ever attempted docking a boat one time in my life, needless to say I was more than a little nervous, not to mention the fact that this was NOT even my own boat! Two wheels at the helm~ ~ handy thing they are!! But I was still responsible for throttle too. Frank talked me through it, ....oops, an over steer, so I over shot the slip. Reverse and give her another try, Ahhh, much better. The wind blew us off a bit more than anticipated but - no harm, no foul and a safe landing / docking we had! Whew!
I won't have to do that again tomorrow, someone else will have to do it. Cool! Wine and dinner here we come!


~ DAY TWO~

It was quite a bit cooler the second day and the wind speed was a bit higher as well. Marcia was asked to take Rose off the dock this morning . I was sort of hoping that I could do it. I think it would be easier than bringing her in but.......I didn't get to find that out!
Again, two wheels are so cool, and Marcia did a great job, easily taking this 44 foot boat out of her slip and down the narrow fairway toward the harbour.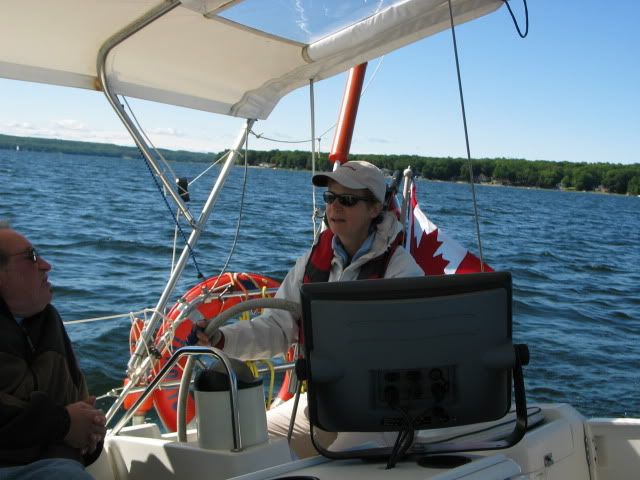 Becky taking a few pointers from Frank. I'm sure they were discussing Navigation as Becky wants to gather more knowledge and practice in this part of sailing......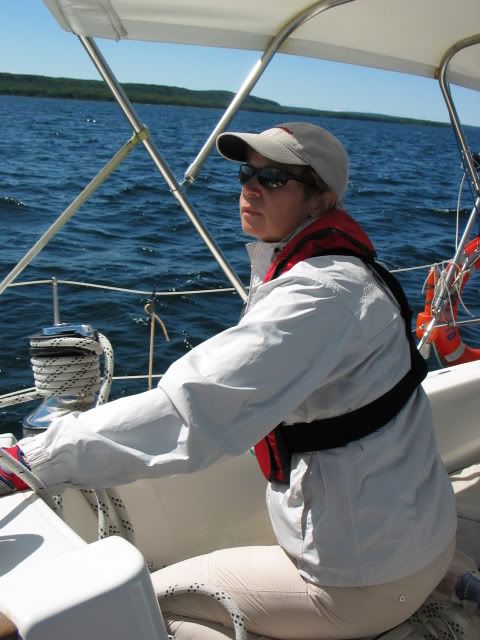 Becky on the winch, and doing her time as watcher and navigator, while I snapped a few photos!



Marcia, the happy helms woman!



We anchored for lunch off a little beach off Giants Tomb Island, I think. And this seagull hung close by as soon as we dropped the hook. He's no dummy, he knew we would give him a little treat......potato chip crumbs, he was in heaven!



Becky the grinder!!

Well, we had another great day of sailing and coaching and oh yeah, we did crew overboard drills on the way back to the marina......Becky's idea I'm sure!! Each if us did our crew pick up 2 times. I and Marcia had a bit O trouble remembering which way to steer......NO the other way, don't gybe, come about~~ it tough when you're not that used to being on the helm!! Anyway, we got it done with no accidental gybes!

So back to the dock we go......and guess who is on the helm for docking? Bigger wind, different direction....arrggg. ME. Two wheels, Frank on the port, me on starboard with the throttle, finger dock port, big motor vessel on starboard. HHMMMM, forward, reverse... eeeasy, forwaaaard port........ok neutral. Frank helped a bit but again talked me through it and ....whew, another good docking.
We all tidied up s/v Compass Rose before disembarking, and had a nice over view of the two days from Frank. Turns out that we are all very capable sailors. We just need to practice, and thankfully, Becky is ALL into that and more than willing to provide the boat for the women to come and sail on and get the practice we need.
Thanks, Frank.......I had a great time, even though I buck at more knowledgeable beings! You handled me well!
I know Marcia feels so much more confident and Becky is sponge when she's around you. We all came away with more than we arrived with!

For more info on Frank's sailing school and courses
Adventure Sailing Plus Ltd www.adventuresailing.ca Frank Baron email~ skipper@adventuresailing.ca